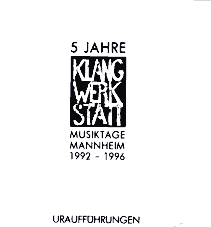 5 Jahre Klangwerkstatt Musiktage von 1992 bis 1996

Eine Auswahl von Uraufführungen aus den ersten 5 Jahren Klangwerkstatt Musiktage.
---
5 Years of Klangwerkstatt's Music Days Festival

Music from the Mannheim (Germany) Music Days (1992 - 1996). The music on this CD is consistently delightful and playful, and offers a timbral richness that enhances the work. Compositions include Hans-Karsten Raecke's 'Denn Wir Sollten Die Natur Wieder Lernen' (klangerweiterten Flugel and Sprechstimme), Ferdinand Forsch's M 4 C3' (sound objects and tape), Peter Michael Hamel's music from 'Manneimer Mandala' (prepared piano), Friedemann Dahn's 'Places' (E-Cello and tape) and 'Kiss My Guarneri' (E-Cello), Hans Reffert's 'White Noise - Blue Noise - Black Noise - Red Noise' (E-Guitar and sound montage), and Hermann Keller's 'So Oder So, Die Erde...' (piano, prepared piano and tape).