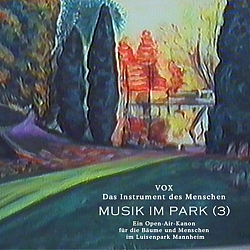 MUSIK IM PARK (3)
KWE 007

Auschnitt aus der CD (mp3)

Die menschliche Stimme und die tierische sind auf weitgefächerte Art und Weise zu hören: Sie spannen den Bogen von gepfefferter Satire aus dem mittelalterlichen Spruchbeutel über klassische Lieder, Chorstücke zum heutigen Stimmgebrauch und von dort zurück zum mittelalterlichen Minnegesang - alles eingerahmt im Plätschern des Wassers und in Parkgeräuschen.


---
An anthology of vocal and instrumental music dedicated to the outdoors, performed in a Mannheim (Germany) park in 1998. Many of the works are melodic songs, especially those of the 19th century Russian composers represented, and the early music of Machaut. Raecke's works are tape pieces drawn largely from sounds of the outdoors (including barnyard sounds). Compositions include Hans-Karsten Raecke's 'Buschgefluster' (tape), Nikolaj Rimskih Korsakow's 'Das Madchen Und Die Sonne', 'Nicht Der Wind Der Von Der Hohe Wehte...', and'Elegie'; Michail Glinka's 'Der Nordliche Stern', Claude le Jenne's '0 Rose, Reine De Fleurs'; 'Le Temps Vivre' (French folk song); Hans Eisler's'Nach Einem Sprichwort', and'An Den Schlaf' (Moricke); Hans-Karsten Raecke and Martin Schimka's 'Warnungen Aus Der Klangoase' (tape); Dorle Verber's 'Wilde Vogel', Hans-Karstein Raecke's 'Buschgefluster' (tape), Guillaume de Marchant's 'Klagelied' and'conductus (Bonum est confidere) ; Walther von der Vogelwide's Talestinalied'; and Oswald von Wolkenstein's 'Tagelied'.