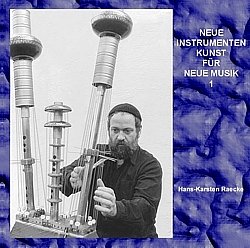 Neue Instrumentenkunst für neue Musik 1
KWE 005

Auschnitt aus der CD (mp3)
"Protuberanzen" (mp3, komplett)

Die CD liefert einen Überblick über aktuelle Kompositionen, die Raecke solistisch in seinen Konzerten gegenwärtig spielt.
Der Schwerpunkt liegt auf neue Instrumente und live-Elektronik.



---
New Instrument Art 1

Music for original instruments and electronics composed and performed by Hans-Karsten Raecke. This recording opens with dramatic, resonant gestures on a Raecke's home-made stringed instrument and live electronics. It is followed by a lovely rhythmic work, suggesting the balance of textures and moods that one may find on this compelling recording. 'Luft-Druck-Zonen' is a gentle, ever shifting drone that is transformed into a pointalistic work for solo horn. 'Kalamos' draws from Central Asian musical roots. Compositions include 'Protuberanzen', 'Solar 1', 'Stahlstangen und Schlappsaitentanz', 'Luft-Druck-Zonen', 'Raster 8 (Dooosmusik/Urfassung)', 'Kalamos', 'Wassermusik', 'Hohlenlandschaft', 'Feuermusik', 'Vom Meeresgrund', 'Wolkenlandschaft', and 'Denn Wir Sollten Die Natur Wieder Lernen'. Raecke's inventions include a wide range of wind instruments, metalophones, and others, and he also plays prepared piano and Moog synthesizer.