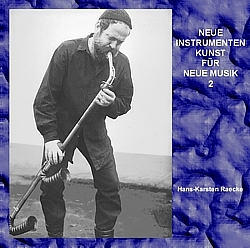 Neue Instrumentenkunst für neue Musik 2
KWE 006
Solo: Hans-Karsten Raecke

Auschnitt aus der CD (mp3)

Hans-Karsten Raecke: New Instrument Art 2

Music for original Instruments and electronics composed and performed by Hans-Karsten Raecke. Raecke's metalophone Instruments set up a kalimba-like beat and texture, upon which is laid his deeply expressive horn playing. His stringed Instruments, owing to their unusual resonances and tunings, create an otherworldly atmosphere. 'So...?' places an elegiac horn solo over a deeply resonant droone. 'Arabische Stadt' and the four compositions that follow it are stunning percussive tapestries of Sound. Compositions include 'Das Mecklenburger Pferd-Kaltbluter, 'Raster 2', 'In Der Zugluft', 'So ...? (Ein Warnlied)', 'Arabische Stadt', 'Botanischer Garten', 'glatternde Stadt', 'Modell Einer Blumenvase/Vor Dem Schnee', 'Biofron', 'Raster 4', and'Das Mecklenburger Pferd-Warmbluter'. Raecke's inventions include a wide range of wind Instruments, metalophones, and others, and he also plays prepared piano and Moog Synthesizer.